Hormon Yoga Therapy for Women
How to strengthen the hormonal system and eliminate the symptoms of menopause, premenstrual syndrome, polycystic ovaries and infertility.
More...
Welcome to my website, let me introduce myself, my name is Barbora Ruskova and come from the Czech Republic. I am a certified hatha yoga teacher. I have been interested in yoga for severl years. One day, thanks to a friend of mine, I learned about a seminar of Hormonal Yoga Therapy (HYT) for women by Dinah Rodrigues. I attanded the course and started practicing at home. I became totally absorbed by this set of exercises that I wanted to learn more and decided to become a teacher of Hormon Yoga Therapy.

I managed to complete the course for HYT teachers in 2019. Meeting the author Mrs Dinah Rodrigues in person, who is the only one who can issue the certificate for HYT lecturers, was almost indescribable. At the incredible age of 92, she taught classes, trained, and many times was quite strict and uncompromised. However she is an incredible woman, extremely energetic, but at the same time very feminine and gentle and she has a great sense of humor. For me, a clear proof that that her work is ablosutely unique. Every exercise, its succession and energy circulation, where she uses Tibetan Energy Technique, with a focus on individual glands in the body has its reason and logic.


Mrs Dinah Rodrigues combined several techniques at once to create a comprehensive set of dynamic exercises aimed at increasing and then balancing hormones in the body. She is successful around the world, and I am very grateful to have had the opportunity to attend a seminar for yoga instructors hosted by Dinah Rodrigues to gain the opportunity to become a HYT teacher and to pass on this beautiful set of exercises and improve the lives of women of all ages.

Yoga generally calms us and calm gives us insight and brings joy to life. In addition to HYT, I practice Hatha yoga and meditation. During the difficult period of quarantine, I began to practice "Himalayan Kriya Yoga", which is dedicated to energetic purification of the body. I also started to study "Yoga Nidra", "yogic sleep" as they say, and it is so interesting that I hope I soon will be able to offer this unique kind of meditation to my practicioners. The Hatha Yoga classes I lead focus on calming and relaxing the body and mind of my practitioners.

"Every day brings something new and takes us one step further."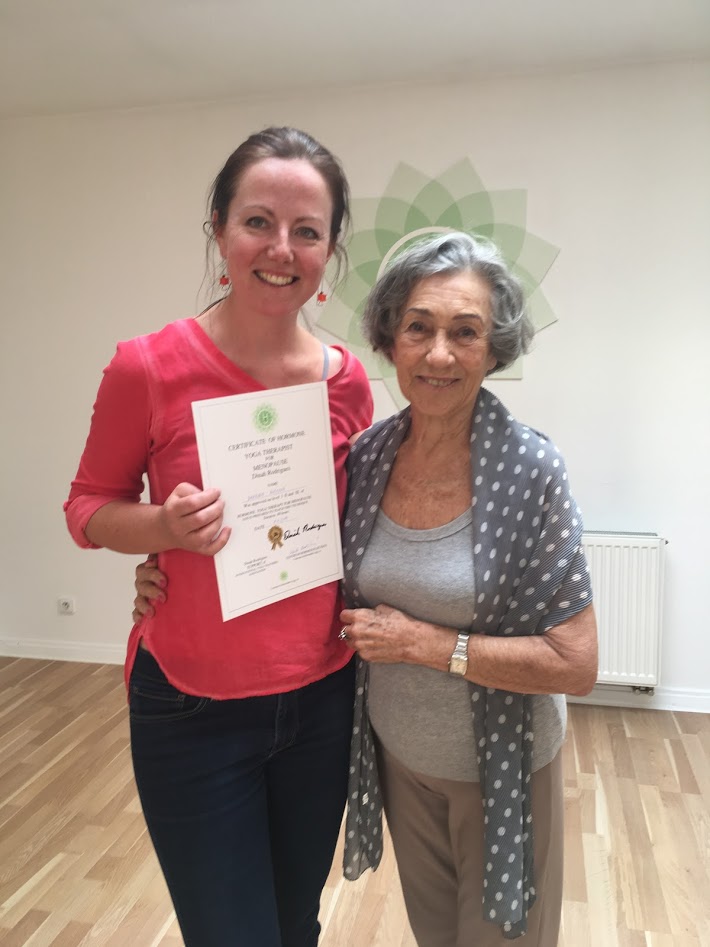 About the author of Hormonal Yoga Therapy
Mrs Dinah Rodrigues is a yoga therapist who studied philosophy and psychology at the University of Sao Paulo in Brazil. She developed hormonal yoga therapy based on many years of her own study, practice and teaching of hatha yoga. The goal of this therapy, which is based on physiology and yoga techniques, is to help women who suffer from the consequences of reduced hormone levels during menopause (from the book Hormonal Yoga Therapy by Dinah Rodrigues).
More information about her activities can be found on the website: https://www.dinahrodrigues.com.br
Dinah Rodriques
The author of HYT